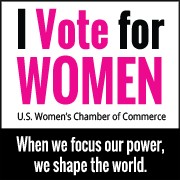 Natalie Tennant receives a 100% rating from the Women's Chamber as a champion of women's economic priorities.
Washington, DC, September 18, 2014 (Newswire.com) - "Today, the U.S. Women's Chamber of Commerce (http://www.uswcc.org) announces our enthusiastic endorsement for Natalie Tennant for U.S. Senate from the great state of West Virginia," states Margot Dorfman, CEO. "When reviewing the history, experience and views of the two candidates in this race, the clear winner for women's economic priorities is Natalie Tennant."
"Natalie Tennant is a thoughtful, independent and proven leader who has shown a real ability to stand up and do what is right for the people of West Virginia," adds Dorfman. "Her instincts and actions as a leader have always been to help lift the lives and opportunities of her neighbors. From cutting fees and red tape in the West Virginia Secretary of State's office – to make it easier to grow and do business, to cutting her own budget by $3 million – to give money back to West Virginia tax payers, Tennant has proven that she works for the economic interests of the people she represents."
"Natalie Tennant is a champion of women's economic priorities and the clear candidate of choice for women who care about business growth, access to capital, job creation, fair pay, family-friendly work environments, access to affordable/quality healthcare and birth control, tax policies that support a vibrant middle class and the protection of social security benefits for our seniors," states Dorfman.
"In contrast, Ms. Tennant's opponent, Shelley Moore Capito, has consistently voted for Wall Street interests rather than the interests of West Virginians.  She has spoken out and voted against legislation that supports women's economic priorities. Even though sixty-seven percent of West Virginia workers earning the minimum wage are women, Ms. Capito has repeatedly voted against raising the minimum wage, " continues Dorfman. "Shelley Moore Capito has voted against legislation in support of women's economic priorities so many times, there can be no doubt – if elected to the Senate, she will continue to undermine women's access to good jobs, fair pay, affordable healthcare, business growth and retirement security."
"Ms. Capito claims she has been a strong proponent of helping women business owners expand their access to credit.  But, if Ms. Capito's efforts in Congress were working to help women business owners, why are only 4 percent of small business loan dollars going to women entrepreneurs?" asked Dorfman. "In contrast, Natalie Tennant has been a small business owner – fighting for resources, capital and market share.  Tennant knows our Washington leaders need to take real action in support of women in business – like she has done as Secretary of State. Leaders for West Virginia need to do more than proclaim their adoration for women in media statements while voting against our economic interests; they need to step up and champion our growth, opportunities and security."
"Natalie Tennant is ready to fight for women, families and seniors in Washington," continues Dorfman. "She wants her daughter, and all West Virginia daughters, 'to grow up in a world where they know their hard work has value.' Tennant knows that paycheck fairness isn't just a women's issue – it's a West Virginia issue.  When women work hard and take home less pay it impacts their families and our economy," says Dorfman.
"Many American's don't realize, without the influx of women into the work force over the last four decades, America's gross domestic product would be just seventy-five percent of what it is today," adds Dorfman. "We need to keep women in the workplace, growing businesses and contributing positively to our economy.  That's what creates jobs, opportunity and family security," continues Dorfman.
"Growing the number of strong women's economics champions in Congress is critical to our country," states Dorfman. "American prosperity is directly linked to the economic success of women. Seventy percent of women work and seventy-two percent of mothers work. A record forty percent of all households with children under eighteen include mothers who are either the sole or primary source of income for their family.  Women own more than thirty-seven thousand West Virginia businesses employing more than thirty-eight thousand workers," concludes Dorfman.
"We need leaders in Washington like Natalie Tennant who will never forget her roots and the community she serves. We are proud to endorse her candidacy and look forward to her leadership in the U.S. Senate."
For more information on women candidates visit http://www.IVoteForWomen.org. The U.S. Women's Chamber of Commerce unifies the collective strength of women in the U.S. economy. Using a platform of influence, innovation, and opportunity, the U.S. Women's Chamber of Commerce works with and for its members to grow successful businesses and careers. For additional information, go to http://www.uswcc.org or call 888-418-7922.
Share: