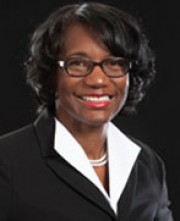 Diane Adoma, a member of the U.S. Women's Chamber of Commerce, is stepping up to run for the State Senate in Georgia.
Washington, DC, August 26, 2015 (Newswire.com) - ​​​​​​The U.S. Women's Chamber of Commerce is proud to announce that chamber member Diane Adoma is stepping up to run for the State Senate in Georgia. Mrs. Adoma will seek election for the Georgia State Senate in District 43 which encompasses parts of Rockdale, Newton and DeKalb counties. She will formally announce her candidacy on August 29, 2015 at 5pm at 4009 Brooks Mill Drive, Lithonia.
"The U.S. Women's Chamber of Commerce, through our I Vote for Women initiative, strongly supports women stepping up to lead through elected office," states Margot Dorfman, CEO of the U.S. Women's Chamber of Commerce. "Diane Adoma's drive to support her community combined with a strong background in business development and community leadership make her an excellent candidate for the Georgia State Senate," adds Dorfman. "Mrs. Adoma's commitment to women's economic priorities, free enterprise, entrepreneurship and education is an excellent platform to improve the lives of all Georgians."
Mrs. Adoma was born in Bainbridge and currently lives in Lithonia. She is a proud graduate of Kennesaw State University with Bachelor of Business Administration. She has an MBA from University of Phoenix with an emphasis in business management and is currently writing her dissertation titled:  "The Correlation between Transformational Leadership Style and Employee Trust" at Capella University. Diane and her husband are franchise owners of all the H&R Blocks in Rockdale County. Diane has 25 plus years of marketing experience with companies such as Turner Broadcasting Systems, AT&T, Qwest Communications, ING Group, MCI WorldCom, and University of Phoenix. She is also a producer and host of Adoma and Company Radio Program and is owner of Diane Adoma Consulting, LLC.
Diane is active in both Rockdale and DeKalb Counties as a community advocate for businesses and nonprofit organizations. She currently is an instructor for the Entrepreneur Academy and has served as the Ambassador Chair, and on the Board of Governors for Conyers-Rockdale Chamber of Commerce. She is a current member of the Rockdale County Advisory United Way Board, board member and youth services committee chair for the Conyers Rotary Club, President of Friends of the Salem Panola Library and president of Brooks Mill Homeowner Association. Diane has served as treasurer of DeKalb Library Alliance, 2013-2014 United Way Campaign Fundraising Chair for Rockdale County, and board member and public relations and communications chair of the Georgia Rotary District Character Education Program, board member of Rockdale Foundation for Excellence in Education and the Atlanta Regional Commission Workforce Committee.  Diane was the recipient of the James P. Culpepper, Jr. Volunteer prestigious award and the Rotary International Avenues of Service Citation for Individual Rotarians for her community service.
The U.S. Women's Chamber of Commerce (USWCC) is the leading advocate for women on economic and leadership issues. As the economic leader for women, the USWCC creates opportunities, drives progress, advocates, and provides tools and solutions to support the economic growth of women across America. The USWCC (uswcc.org) is a not-for-profit 501(c)6 organization founded in 2001 with over 500,000 members; its headquarters offices are located in Washington, D.C. Contact the USWCC at 888-418-7922.
Share: