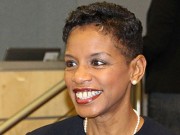 Donna Edwards receives a 100% rating from the U.S. Women's Chamber of Commerce as a champion of women's economic priorities.
Washington, DC, October 15, 2014 (Newswire.com) - "I am proud to announce the endorsement of the U.S. Women's Chamber of Commerce (http://uswcc.org) for Donna Edwards in the race for Maryland's 4th Congressional District," states Margot Dorfman, CEO. "Congresswoman Edwards is a stalwart supporter of women, workers, and small businesses."
"Donna Edwards is at the forefront of American political leadership fighting every day to uplift the lives of her constituents and all Americans," says Dorfman. "Congresswoman Edwards understands she was elected by the people and for the people – that means fighting for bottom-line values like fair pay and wages, family friendly work environments, the right to contraceptive coverage, fair tax policies that support a strong middle class, access to capital and opportunities for small business owners and a secure retirement."
"Congresswoman Donna Edwards is a champion for her district and for women's economic priorities, receiving a one-hundred percent rating from the Women's Chamber.  Donna supports a positive economic environment for women, workers and business owners and works consistently and effectively on our behalf," continues Dorfman. "As a chair of the Democratic Women's Working Group, Congresswoman Edwards is leading the 'When Women Succeed, America Succeeds' economic agenda for women and families," adds Dorfman. "The U.S. Women's Chamber of Commerce is a strong proponent of supporting the economic needs and recognizing the economic importance of women and families."
"Growing the number of strong women leaders in Congress is critical to assuring that women's economic priorities are advanced," adds Dorfman. "The economic success of women is directly linked to American prosperity. Seventy percent of women work and seventy-two percent of mothers work. A record forty percent of all households with children under eighteen include mothers who are either the sole or primary source of income for their family. Women own 202,300 Maryland firms employing more than 179,000 workers and generating $26 billion in sales," continues Dorfman.
"Donna Edwards will continue to be a workhorse in the U.S. Congress for her district and the economic prosperity of all American families. We are proud to endorse her candidacy."
The U.S. Women's Chamber of Commerce unifies the collective strength of women in the U.S. economy. Using a platform of influence, innovation, and opportunity, the U.S. Women's Chamber of Commerce works with and for its members to grow successful businesses and careers. For additional information, go to http://www.uswcc.org or call 888-418-7922.
Share: