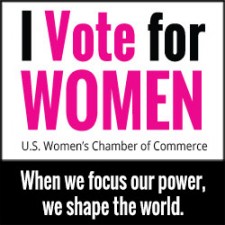 Nydia Velázquez receives a 100% rating, endorsement from the Women's Chamber as a champion of women's economic priorities.
Washingon, DC, October 13, 2016 (Newswire.com) - "I am proud to announce the endorsement of the U.S. Women's Chamber of Commerce ( http://www.uswcc.org ) for Nydia Velázquez in the race for New York's 7th Congressional District," stated Margot Dorfman, CEO. "Velázquez's is a passionate and effective leader who is committed to elevating the American economy through much needed strategic investments in our nation's infrastructure and mass transit that will support travel and trade, create a large number of jobs and, in turn, support small business growth, families and communities."
"Nydia Velázquez understands that the middle-class, working class and poor families today are being forced to work harder than ever before to make ends meet. And, she is a leading champion of women's economic priorities, receiving a one-hundred percent rating from the U.S. Women's Chamber of Commerce," continues Dorfman.
"Rep. Velázquez supports a positive economic environment for women workers and business owners, American job creation, fair pay, a fair minimum-wage, family-friendly workplaces, access to affordable/quality healthcare and birth control and policies that support economic opportunity for New York families, including access to capital and federal contracts for women-owned firms," continues Dorfman. "And, Velazquez has committed to moving away from American job-killing trade deals like the Trans-Pacific Partnership (TPP) and instead demands that our trading partners respect workers and the environment as part of any trade deal."
"Nydia Velázquez is a consistent and passionate leader for women's economic priorities in Congress," adds Dorfman. "She authored the Equity in Contracting for Women Act of 2000 and has continued to fight for women-owned small businesses' equal access to federal contracts," adds Dorfman. "Rep. Velázquez also understands that millions of women business owners need access to capital and resources to grow their businesses.  As a Ranking Member of the House Small Business Committee, she consistently fights for additional funding in support of small businesses."
"Growing the number of strong women leaders in Congress is critical to assuring that women's economic priorities are advanced," adds Dorfman. "American prosperity is directly linked to the economic success of women. Seventy percent of women work and seventy-two percent of mothers work. A record forty percent of all households with children under eighteen include mothers who are either the sole or primary source of income for their family. Women own more than 725,00 New York firms employing more than 560,000 workers with over $18.5 billion in annual payroll," continues Dorfman.
"Nydia Velázquez's efforts in support of small business, women's economic priorities and middle-class families is simply unparalleled in Washington. The U.S. Women's Chamber of Commerce is proud to endorse her re-election."
For more information on women candidates visit http://www.IVoteForWomen.org. The U.S. Women's Chamber of Commerce unifies the collective strength of women in the U.S. economy. Using a platform of influence, innovation, and opportunity, the U.S. Women's Chamber of Commerce works with and for its members to grow successful businesses and careers. For additional information, go to http://www.uswcc.org or call 888-418-7922.
Source: U.S. Women's Chamber of Commerce
Share: